Welcome!
---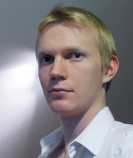 The purpose of my website is simply to display my work, and to get people with job offers to contact me.
---
I made the models of this animation, which was a collaboration project with Jarkko Pyy and Kati Kallasjoki in a 3d animation course.
I won the Raytrace competition in Assembly '01. Click here to see my entry. Also, there are some new pics in 2d section.
It's some time from my last update. I've added a new digital painting, it can be found at the 2d section of my portfolio.
Web site founded! Yay!
---
You hit the bottom.